FREE FEATURES OF OUR COURIER DELIVERY APP
That Other Charge for
Installation Of Apps

The configuration, uploading and installation of the code Database & Web Services on the Online Web Server, Google/Android Play Store & Apple/iOS App store is all managed by us at no added fee.

Getting Approval For Apps On The Play Store

We take complete responsibility of getting your apps accepted by the iTunes & Google Play Stores. For all technical issues, we are 100% accountable and for any other issue, we will guide you till these apps can be launched on these stores.

White Labeling

Your company name and logo will be put everywhere on the Courier delivery app so that it can be launched as yours completely. This is also done by us without charging any extra fee.

Advanced Analytics

If you wish to check whatever is going on through the courier delivery app, you can do it using our advanced analytics feature. You can easily get details regarding the number of rides undertaken, number of cancellations, how much commission you have been able to make etc.

Advanced Reports

You can go through the clear breakdown of your earnings along with other reports which will allow you to focus on and identify your pain areas so that you can put in more effort there. You will also be able to check if the rate of commission that you are charging is correct or needs any modification.

Wallet

An in app wallet is a feature that will enable your customers to make payments directly through digital wallet. This wallet can be recharged using Mobile Money or can be done by the admin if the payment is done by the customer to the admin directly through any other source.

Life Time License

Once you pay for the courier delivery app, you get a lifetime license for the same. You never need to pay for it or get it renewed.

Licensed Code Open For Personalization

For any kind of modification that might be required in the future, we give you the source code of the app. Please note that this source code is completely licensed and open so that any developer from your end can make the required changes.

Responsive Web Panel's

Your web panel needs to be accessed by the masses, so, we have made it completely responsive across any platform like the Android or iOS and can be used over any PC, Tablets, Android Phones, iPhone/iPad, Windows or Blackberry Phone, etc.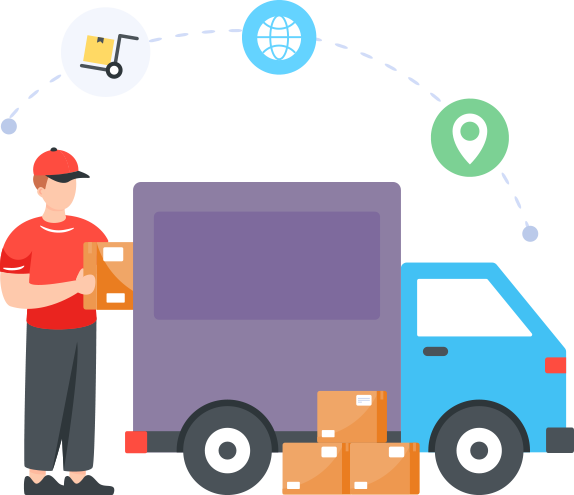 Courier Delivery App Clone
This app is a powerhouse of features to make sure that your business is a booming success. We understand how important your business is for you and thus we make sure that we give you everything required to propel through the market and help you capitalize on the digital wave by utilizing the best innovations of technology to increase your return on investments.
Once you invest in our courier delivery app and make it yours, we would put your name as well as logo everything to give you total ownership and authority for the same. Now is your chance to shine among the rest! Have a look at the host of features that we have in store for you with our app.

Buy Now
Live Demo Video
Find out every function, the app's usage, and the details on how it works with the help of a live demo video. This video captures the essence of each step involved in the app system to give you a better understanding on what your customers will experience while using the app.
COURIER DELIVERY APP Clone- THE PERFECT On Demand BUSINESS SOLUTION FOR YOU
We are all living in the fast lane, which means we want things done instantaneously. Thanks to the courier delivery app, deliveries can be made faster. This is the reason why every new startup is thinking of investing in an app that beats the waiting time records of all deliveries.
Anyone who wishes to send a package or a parcel urgently will need to register on the app before using it for their purpose. Registration includes inputting their personal details like name, address and method of payment i.e. debit or credit card. Your clients can be anyone - a normal person like you or me, or those whose business involves deliveries like pizzerias, milliners, chocolatiers, florists, supermarkets and restaurants, to name a few.
After registration, they are ready to request a delivery by logging onto on demand delivery app clone. Once logged in, they need to input the details of the package, item, or courier that is going to be delivered. They also have the option to choose the preferred mode of transport for their delivery i.e. scooter, bike, cycle, foot, lorry, van, rail, sea etc. They will also input the date and time that they want the delivery to be done, along with the destination of the delivery. Depends on what and where the delivery is, and the mode of transport chosen, an estimated fare will be displayed on the screen.
Available couriers in the vicinity will also appear on the screen, along with their profile, photograph, reviews and ratings. The sender makes a decision on which courier will do their delivery and chooses accordingly. Once they choose a courier the service provider will receive a message giving details of the job. This also opens up the communication channel between the two.
The courier accepts or rejects the job depending on his circumstances. If they accept it, they will indicate so and be able to see the details of the delivery. At the scheduled time, they would pick up the courier from the pickup location and start the journey. They would also indicate on the app that they have begun journey. This prompts the courier delivery app to generate a verification code, which is sent to the recipient of the package by way of a text message. This way, the recipient is also aware that their package is en route and they will be able to track the courier as it travels to its destination on the app.
On arrival at the destination point, the courier will hand over the package to the recipient, who in turn will confirm receipt by handing over the verification code to the courier. The courier will enter the verification code into their app to confirm the end of the journey and delivery of the package. This prompts the generation of an invoice, a copy of which goes to the client. Payment is automatically deducted from the registered debit/credit card on the selection of the "collect payment" option that is on the apps like uber for logistics.
The courier will hand over the item/package to the recipient on arrival. The recipient, in turn, will acknowledge the receipt of the package by handing over the verification code to the courier. The courier will input this code onto his app so that an invoice can be generated for payment purposes. The cost will automatically be deducted when the courier selects the "collect payment" option on the app, from the credit/debit card, which was fed into the system on registration
Both parties can rate and review the experience at their convenience. The owner in the meantime gets a nice hefty commission for the successful delivery just completed.
GET THE WORLD TO USE SMART TECHNOLOGY TO REQUEST AND MAKE DELIVERIES WITH COURIER DELIVERY APP
Introduce the world to a smart, efficient and synchronised way of sending deliveries to anyone, anywhere at any time. We are living in the on-demand era, where everything is available at the touch of a button.
Don't waste time thinking about the ifs, whens and buts. Just invest in the courier delivery app and get started. There will be no looking back for you then as you will be too busy counting the money that is being deposited into your bank account. There will be only one uber clone for delivery that your clients will trust, and that will be yours.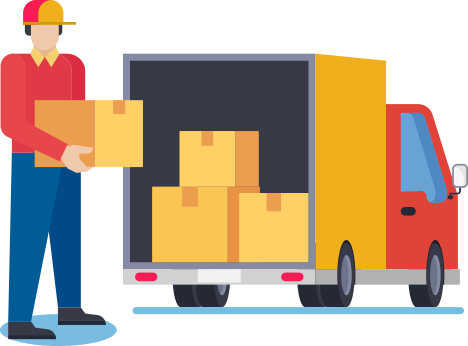 4 steps to your products
We follow the 4 step formula below and do the hard work so that your work becomes much easier.
First step to buying a courier delivery app is to take a complete demo. But we don't offer a meaningless demo! We give you a live on road experience of the same. Just download the app and take it for a test drive. If you feel like it needs any modifications, just let us know and we will incorporate them for you.

The original setting of the app tenders the typical language of English. The original currency that is incorporated is USD. However, we can combine the language and currency of your choice within the app as well, to the preexisting settings.

Once you have made the purchase of the courier delivery app, you can give us your Server & Play Store details in order to enable us set up the apps with your logo/brand name and upload/configure them.

Since it is your app, it deserves to be launched in your name only! This is why we completely transform and re-skin your app with your logo and company/brand name everywhere. This will facilitate you to start earning from the moment the app is launched.
Core Features
Multicurrency / Multilanguage

In addition to English as the standard language and USD as currency, we will incorporate a language of your choice within the app.

God's Eye View

This feature gives you an overall visibility of any ride for delivery that is being undertaken

Cash or Pay by Card

Three options to make payments are available: Cash, Card or in App wallet.

Real Time Tracking

You can monitor the real time whereabouts of your vehicles undertaking delivery through this feature.

Book Now or Schedule for Later Feature

Instant pick up and deliver or schedule a pick up for sometime later are two options that your app offers to the customers.

Promo Code and Referral

You can use the promo codes and referral rewards generated by the courier delivery app to give offers to your customers which will help in increasing customer loyalty and draw in more and more users.
Get Familiar with the Extent of The App System
When it comes to the Delivery App, it is not a single application that makes the business run. There is an interlocked system of different links that make the entire process seamless and serviceable. Explore the various aspects that are involved within the application by engaging with the multiple links within.
App Screens and Their Operation
An app is defined by its functionalities and roles. Take a look at how the app reacts to each function, each scenario, and each section with the help of the app screens. The following flow will explain what your users can expect to see when the app is turned on. It will help you understand the operation and the visible front of the application that your Users as well as Delivery Drivers will see.
User App
Delivery Driver App
View Step by Step Graphical Flow
Buy Now
Brand Recognition, Business Profits and Overall Growth
Thinking of a great idea might not be that difficult but executing it into a smart and profitable business venture can be a daunting challenge. To ensure that you achieve brand recognition, a profitable business turnover and an overall growth in your company's value, you must ensure that your application is loaded with some of the most advanced features in the industry. Take a look at our custom built holistic package specially designed for smart and savvy entrepreneurs and the bouquet of features that it comes with.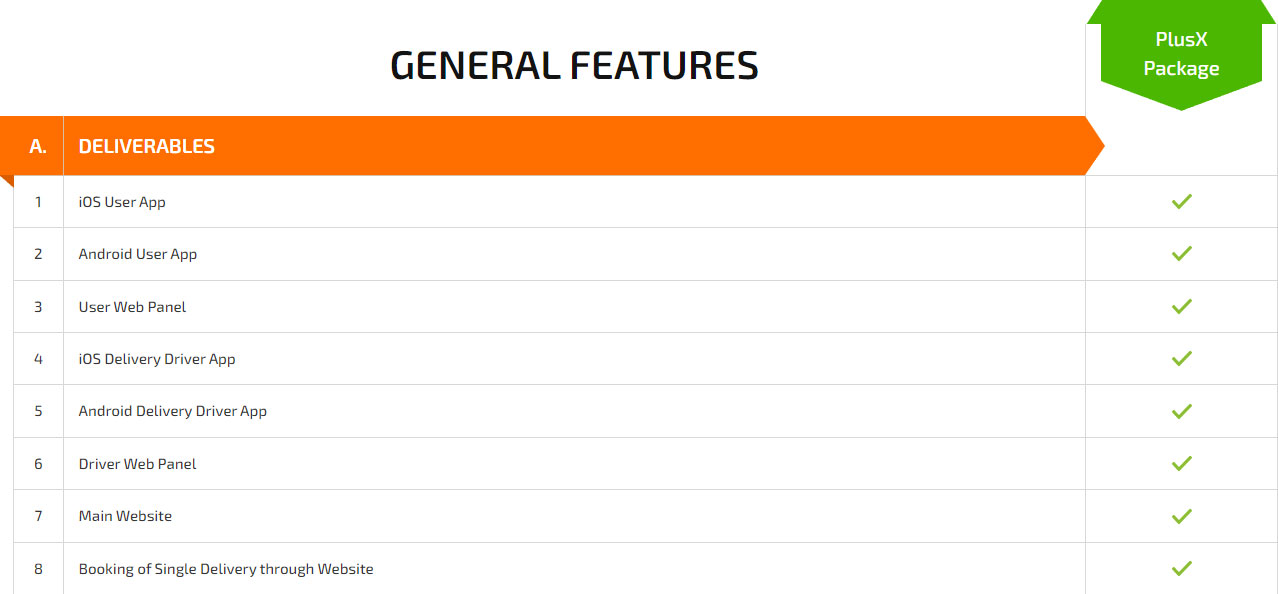 View Features & Pricing
Buy Now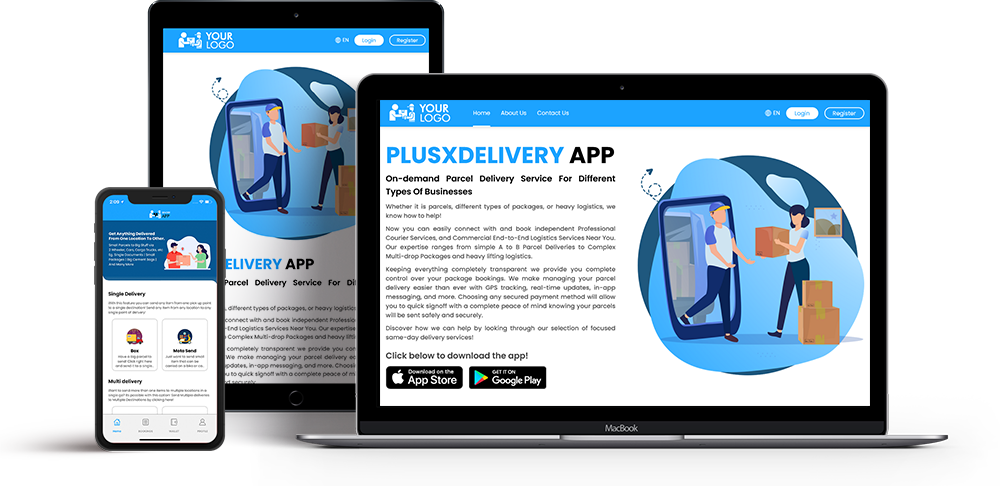 Web Panel's Included
On Demand COURIER Delivery App Clone Package That Out Does All The Others - A Smart Website, An Efficient Panel For The Courier And The Intelligent Panel For The Send – The One App That Will Deliver Both Couriers And Money Into Your Account Simulatneaously
Our on demand COURIER delivery app clone has been designed with the most basic and minimum features. However, if you want to give your clients a unique delivery experience, just say the word and we will customise the app to your specifications. You can rest assured that we will set you up in just two days.
Who needs Fedex, DHL and UPS when there is your Courier delivery app, working much more smartly and efficiently than them?
View Web Screenshots
Buy Now
EXPERIENCES, CHATS AND STORIES SHARED BY CLIENTS
We love our clients. Each client, regardless of the size of the project is special and dear to us. We like to believe that they love us back too! This is probably the reason why so many of our clients have gone out of their way to say a few kind words about our team and their overall experience in having worked with us. But that's not all. These client reviews aren't just testimonials. You will find many stories and anecdotes here ranging from their opinion of our products, their tales of their visit to India, our culture and some of our secrets from our travels to their offices. Check them out!
A COMPLETE OVERVIEW OF OUR COURIER DELIVERY APP
Is your courier delivery business is still based on old website based tracking system? If yes, then it is quite an old technology for doing a delivery business in today's time. Days are gone when a website for a business was an evolution but now that evolution is replaced by on demand apps. For your goods delivery business, we have an all-new Courier delivery app.
Our Courier delivery app is an outstanding clone of the app. Apart from the original app, our Courier delivery app quite better in terms of features. Our courier delivery app is loaded with impressive features that your customers with never find its replaceable ever. It's a great delivery app for users and a perfect business tool for you as you can completely run your business with this one single app.
What You Will Get?
You will be getting a complete package of courier delivery app and this package will contain:
Driver App
This application will be for all the delivery persons. Now, this driver/Carrier app will be for two different mobile platforms i.e., iOS as well as for Android. To make your services more accurate, our app package will also be including the web panel for the drivers/carriers.
From driver/carrier app, the courier delivery person can easily log in through different social accounts and can register his or her profile to be a part of your business. Also, from the web panel, your deliverers can directly access all the information that the driver app provides if he or she is unable to access the driver/carrier app.
User App
With the name you can understand, yes it will be a useful app for your customers. From this courier delivery app, your users will be able to get delivery services easily. Now user app is also for both the popular mobile platform and that are Android and iOS. By the way, all our clone apps are available for both the mobile platform.
It is necessary to have user app in both the mobile platform because a huge number population is using smartphones that are running on Android. Same is with iOS, which is why we developed apps for both the mobile platforms. From here, your customer can log in through social media accounts like Facebook and Google+. After registering their profile, they can simply deliver anything to anyone and anywhere.
With the help of this app, your customer will be able to track the delivery person as our clones apps are integrated with Google Maps, GPS and real-time tracking systems. Not only does the user's app have these features but the driver/carrier app also has them. These integrated features will allow both, the driver as well as the user to track their location and the real-time actions too.
We have something more for your customers who do not use smartphones where they can access this courier delivery app. We also provide web panel for your customers from where they can log in directly and place their delivery order from web panel tool. All the features and functions that our app have are included in user's web panel too.
Main Website
Well, it's time for you to get rid of your old HTML designed website. With our courier delivery app; you will be getting an advanced website to make great market presence on your business. As per as your requirement, we can even design your on demand delivery website for you. Any changes required in website theme or design, we will get it done for you.
Admin Panel
Admin panel is control centre of your apps. The access of admin panel remains only with the owner of the business. From admin panel, being an owner of the business you can handle payments, commission, users, drivers/carriers, invoices, and all the things that are included in Courier delivery app.
Our Services Includes:
Free app installation on your web services as well as on Play Store & App Store
Free app white-labelling
Lifetime licensed source code
Free 24/7 bug support for 1 year
Don't wait for a correct time to arrive, just take a look at the demo videos and purchase our on demand courier delivery app today!