Free Features of Our Courier / Parcel Delivery App
That Other Charge for
Installation Of Apps

We handle the setup, uploading, and installation of the code for Database & Web Services on the Online Web Server, Google/Android Play Store, and Apple/iOS App Store at no additional cost.

Getting Approval For Apps On The Play Store

We assume full responsibility for ensuring the approval of your apps on iTunes and Google Play Stores. We are entirely accountable for any technical issues, and for any other challenges, we will provide guidance until your apps are successfully launched on these stores.

White Labeling

We will prominently put your company name and logo throughout the Courier delivery app, ensuring it is fully branded as your own. This service is provided by us at no additional cost.

Advanced Analytics

If you want to monitor the activity within the courier delivery app, you can do so through our advanced analytics feature. This allows you to easily access information such as the total number of deliveries, cancellation rates, and the commissions you've earned, among other insights.

Advanced Reports

You can review a transparent breakdown of your earnings, alongside comprehensive reports that help you pinpoint and address any areas of concern. This way, you can channel more effort into improving those aspects. Additionally, you can assess whether your current commission rate is appropriate or requires adjustment.

Wallet

The in-app wallet is a functionality that empowers your customers to make payments conveniently via digital wallet. Users can top up this wallet using Mobile Money or have it replenished by the admin when customers make direct payments to the admin through alternative sources.

Life Time License

Upon your initial payment for the courier delivery app, you will receive a lifetime license for it. There will be no further charges or renewals required.

Licensed Code Open For Personalization

We provide you with the source code of the app for any potential future modifications. It's important to note that this source code is fully licensed and open, allowing any developer from your team to make the necessary changes as needed.

Responsive Web Panel's

Our web panel is designed for widespread accessibility, as it is fully responsive and compatible across various platforms. You can access it seamlessly on PC, tablets, Android devices, iPhones/iPads, as well as Windows and Blackberry phones, ensuring a consistent experience for all users.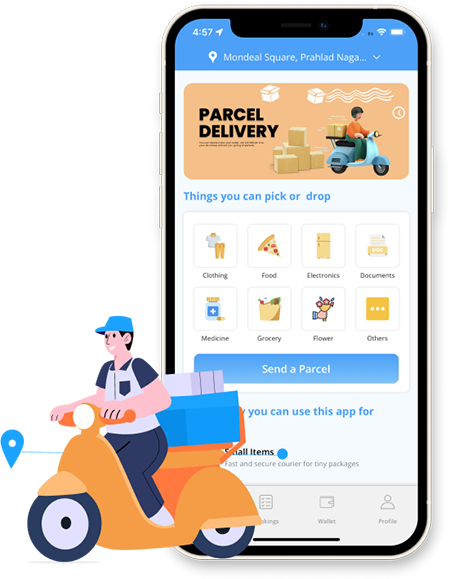 White Label On Demand Delivery App
This app is packed with a multitude of features to ensure the success of your business. We recognize the significance of your business to you, and our goal is to provide you with everything you need to excel in the market. We harness cutting-edge technological innovations to help you ride the digital wave and maximize your return on investment.
Once you invest in our courier delivery app and make it your own, we will prominently feature your name and logo throughout, granting you complete ownership and authority. This is your opportunity to stand out from the crowd! Explore the array of features that await you with our app.

Buy Now
Live Demo Video
Discover every function, usage, and operational details of the app through an informative live demo video. This video provides a comprehensive overview of each step within the app system, offering you a deeper understanding of the user experience your customers will encounter when using the app.
PARCEL DELIVERY APP Clone - THE PERFECT On Demand BUSINESS SOLUTION FOR YOU
In today's fast-paced world, we all seek instant solutions. The courier delivery app expedites the delivery process, allowing for quicker service. This is precisely why every emerging startup is considering an app that sets new standards for delivery speed.
To utilize the app for urgent package or parcel deliveries, individuals must first complete a registration process. This involves providing their personal information such as name, address, and payment method, which can be either debit or credit card. Our clientele is diverse and includes everyday individuals like you and me, as well as businesses that rely on deliveries, such as pizzerias, hat shops, chocolatiers, florists, supermarkets, and restaurants, among others.
After completing the registration process, users can initiate a delivery request by accessing the on-demand delivery app clone. Once logged in, they should provide details about the package, item, or courier they wish to send. Additionally, they have the flexibility to select their preferred mode of transportation for the delivery, such as scooter, bike, cycle, foot, lorry, van, rail, sea, and more. Furthermore, users will specify the desired date and time for the delivery, as well as the delivery destination. Based on the nature of the delivery, the destination, and the chosen mode of transport, the app will display an estimated fare on the screen.
The app will display nearby couriers on the screen, complete with their profiles, photos, reviews, and ratings. The sender will then make a selection of the preferred courier for their delivery based on this information. Once a courier is chosen, the service provider will receive a notification containing job details, initiating communication between the sender and courier.
The courier has the option to either accept or decline the job based on their availability. If they accept the job, they will confirm their acceptance and gain access to the delivery details. When the scheduled time arrives, they will proceed to the pickup location to collect the package and commence the journey. During this process, they will update the app to indicate that the journey has started. This action triggers the courier delivery app to generate a verification code, which is sent via text message to the package recipient. This way, the recipient is informed that their package is in transit, and they can track its progress as the courier makes their way to the delivery destination through the app.
Upon reaching the destination, the courier will deliver the package to the recipient. The recipient will acknowledge receipt by providing the verification code to the courier. The courier will then enter the verification code into the app to confirm the completion of the journey and the successful delivery of the package. This action triggers the generation of an invoice, with a copy sent to the client. Payment is automatically processed from the registered debit/credit card when the "collect payment" option, similar to Apps Like Uber for logistics, is selected.
Upon arrival, the courier will deliver the item/package to the recipient. The recipient will acknowledge the receipt of the package by providing the verification code to the courier. The courier will then input this code into their app to generate an invoice for payment. The payment amount will be automatically deducted when the courier selects the "collect payment" option within the app, using the credit/debit card information registered during the initial registration process.
Both parties have the opportunity to rate and review the experience at their convenience. Meanwhile, the owner earns a substantial commission for the successful completion of the delivery.
Get the World to Use Smart Technology to Request and Make Deliveries with Parcel / Courier Delivery App
Introduce a smart, efficient, and seamlessly synchronized method for delivering packages to anyone, anywhere, and at any time. We're in the era of on-demand services, where everything is accessible with just a simple tap.
Don't dwell on the "ifs," "whens," and "buts." Take the plunge and invest in the courier delivery app to kickstart your journey. Once you do, there will be no turning back as you'll be occupied counting the funds flowing into your bank account. Your courier delivery app will become the trusted go-to choice for your clients, making it the only Uber Clone for deliveries they rely on.
4 steps to your products
We follow the 4 step formula below and do the hard work so that your work becomes much easier.
The initial step in acquiring a courier delivery app is to experience a comprehensive demo. However, we don't provide a superficial demonstration. Instead, we offer you an authentic, on-road experience. Simply download the app and take it for a test drive. If you believe any adjustments are necessary, just inform us, and we'll implement them according to your requirements.

The default language of the app is English, and the default currency is USD. Nevertheless, we can integrate your preferred language and currency into the app alongside the existing settings.

After your purchase of the courier delivery app, you can provide us with your server and Play Store details. This will allow us to set up the apps with your logo and brand name, as well as handle the upload and configuration process for you.

As the rightful owner of the app, it should bear your name exclusively! That's why we perform a complete transformation and re-skinning of your app, prominently featuring your logo and company/brand name throughout. This enables you to start generating income as soon as the app is launched.
Core Features Of Our Courier Delivery App
Multicurrency / Multilanguage

In addition to the default language, which is English, and the default currency, which is USD, we can also integrate a language of your choice into the app.

God's Eye View

This feature provides you with a comprehensive overview of any delivery ride in progress.

Cash or Pay by Card

Three options to make payments are available: Cash, Card or in App wallet.

Real Time Tracking

You can track the live location of your delivery vehicles in real-time using this feature.

Book Now

Our App lets Customers request instant Pickup and Delivery.

Promo Code and Referral

You can utilize the promo codes and referral rewards generated by the courier delivery app to provide special offers to your customers, fostering increased customer loyalty and attracting a growing user base.
Become acquainted with the application system
The Delivery App is not merely a standalone application; it operates as an interconnected system with various components that ensure a smooth and efficient process. Delve into the different facets of this application by exploring the numerous links within it.
App Screens and Flow
An app is defined by its functionalities and roles. Take a look at how the app reacts to each function, each scenario, and each section with the help of the app screens. The following flow will explain what your users can expect to see when the app is turned on. It will help you understand the operation and the visible front of the application that your Users as well as Delivery Drivers will see.
User App
Delivery Driver App
View Step by Step Graphical Flow
Buy Now
Courier Delivery App Features and Pricing
Thinking of a great idea might not be that difficult but executing it into a smart and profitable business venture can be a daunting challenge. To ensure that you achieve brand recognition, a profitable business turnover and an overall growth in your company's value, you must ensure that your application is loaded with some of the most advanced features in the industry. Take a look at our custom built holistic package specially designed for smart and savvy entrepreneurs and the bouquet of features that it comes with.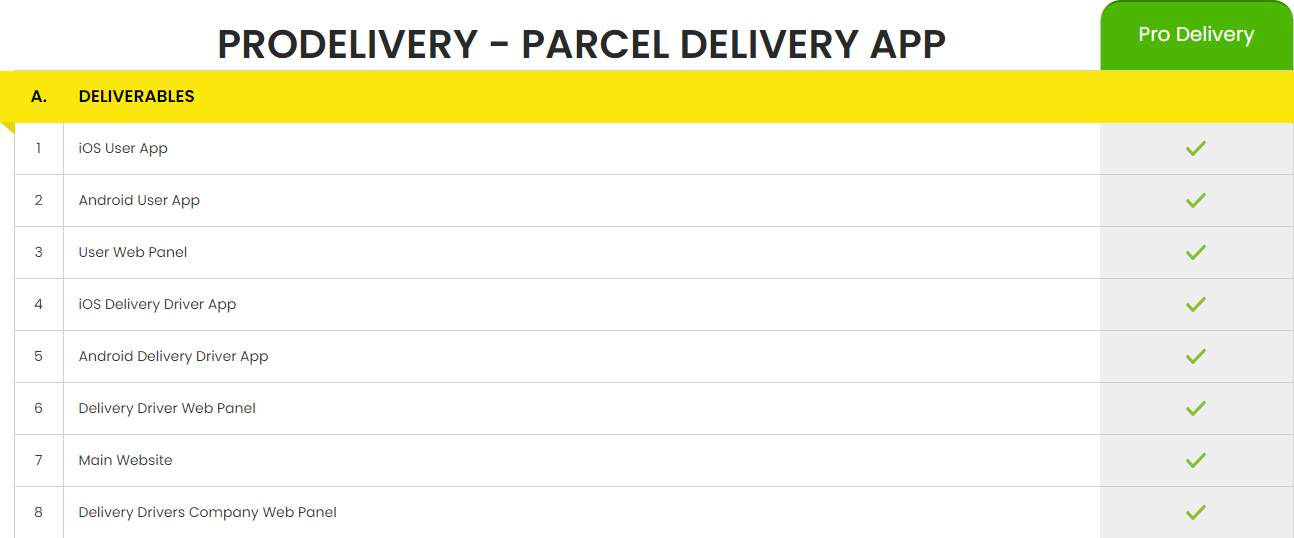 View Features & Pricing
Buy Now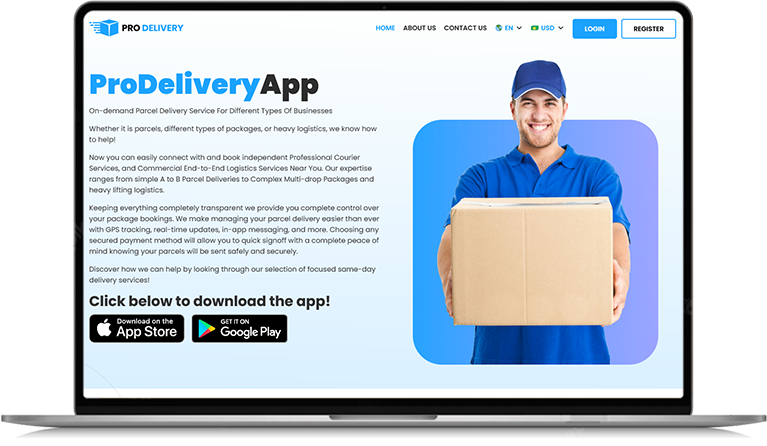 Web Panel Included
Our On-Demand COURIER Delivery App Clone Package surpasses the competition with its comprehensive offerings: a smart website, an efficient courier panel, and an intelligent sender panel. This single app is designed to deliver both packages and revenue directly to your account simultaneously.
Our on-demand COURIER delivery app clone comes with essential and minimal features by default. However, if you desire to provide your clients with a distinct and customized delivery experience, simply let us know, and we'll tailor the app to your exact specifications. You can be confident that we'll have you up and running within just two days.
Why rely on Fedex, DHL, and UPS when your Courier delivery app operates with greater intelligence and efficiency?
View Web Screenshots
Buy Now
EXPERIENCES, CHATS AND STORIES SHARED BY HAPPY CLIENTS
We cherish our clients. Every client, regardless of the project's size, holds a special place in our hearts. We like to believe that they hold us in high regard as well! This is likely why many of our clients have taken the time to share kind words about our team and their overall experience working with us. But there's more to it than just testimonials. Within these client reviews, you'll discover stories and anecdotes, spanning their thoughts on our products, their experiences visiting India, insights into our culture, and even some of our travel adventures to their offices. Feel free to explore these accounts!
A COMPLETE OVERVIEW OF OUR COURIER DELIVERY APP
Is your courier delivery business still dependent on an outdated website-based tracking system? It's crucial to acknowledge that this technology has become obsolete in the context of running a successful delivery business in today's fast-paced landscape. The era where a website was deemed groundbreaking for business operations has come and gone, making way for on-demand mobile applications. To elevate your goods delivery business, we present a state-of-the-art Courier Delivery App.
Our Courier delivery app is not just a mere replica of the original application; it actually surpasses the original in terms of features. Loaded with a wide array of impressive functionalities, our courier delivery app stands out as indispensable to your customers. It not only serves as an excellent delivery application for users but also functions as the perfect business tool for you, providing the means to efficiently oversee your entire business through this single app.
What You Will Get?
You will be getting a complete package of courier delivery app and this package will contain:
Driver App
This application is crafted to accommodate all delivery personnel. The driver/carrier app will be accessible on both major mobile platforms, iOS and Android, ensuring widespread availability. Furthermore, to boost the accuracy of your services, our app package will include a dedicated web panel designed specifically for drivers/carriers.
With the driver/carrier app, courier delivery personnel can easily log in using various social accounts and create profiles to become part of your business. Additionally, through the web panel, your delivery personnel can access all the information available on the driver app seamlessly, ensuring accessibility even when the driver/carrier app is unavailable.
User App
As the name implies, this app is tailored for your customers. With our courier delivery app, your customers can conveniently access delivery services. Furthermore, the user app is compatible with both major mobile platforms, Android and iOS, similar to all our other clone apps, which are also accessible on both mobile platforms.
Offering the user app on both major mobile platforms is imperative since a significant portion of the population relies on Android-based smartphones. The same principle applies to iOS users, which is why we have created apps for both platforms. With this app, your customers can effortlessly log in using their social media accounts, such as Facebook. After registering their profiles, they can easily arrange deliveries to any destination, ensuring a seamless experience for sending items to anyone, anywhere.
Our app provides your customers with the capability to efficiently track the delivery person, courtesy of the integration of Google Maps, GPS, and real-time tracking systems within our clone apps. These valuable features are not limited to the user app alone; they are also accessible in the driver/carrier app. With these integrated capabilities, both drivers and users can monitor their locations and real-time actions with precision and ease.
For customers who do not use smartphones, we provide an alternative solution. We offer a web panel where they can log in directly and place their delivery orders. This web panel tool encompasses all the features and functions available in our app, ensuring that users have access to the same convenient options, even if they are not using a smartphone.
Main Website
It's time to say goodbye to your outdated HTML-designed website. Embrace our courier delivery app, and you'll receive a modern and refined website that will substantially elevate your market presence in the business world. Moreover, we have the expertise to tailor your on-demand delivery website to precisely align with your unique needs. If you require any modifications to the website's theme or design, rest assured, we are here to ensure it's done to your utmost satisfaction.
Admin Panel
The admin panel serves as the command center for your apps, and its access is exclusively reserved for the business owner. Through the admin panel, as the business owner, you have full control over various aspects such as payments, commissions, users, drivers/carriers, invoices, and all the features encompassed within the Courier delivery app.
Our Services Includes:
Free app installation on your web services as well as on Play Store & App Store
Free app white-labelling
Lifetime licensed source code
Free 24/7 bug support for 1 year
Don't wait for a correct time to arrive, just take a look at the demo videos and purchase our on demand courier delivery app today!