Uber Like App For Tow Truck
Roadside Assistance On Demand
Somedays The Wheels Fall Off Literally - Tow Truck Clone App Steps In Provide timely roadside assistance with our scalable, and white-labeled ondemand tow trucking app clone that connects vehicle owners with tow truck service professionals/providers seamlessly.
Are you looking to develop the Tow Truck app clone inspired by Uber? Partner with us and get your hands on the most advanced and feature-rich tow trucks clone app.
We bring your Uber for tow truck business ideas to life. Our flexible tow truck clone app solution enables you to get started with your own ondemand tow truck website and app built on the latest technology stack, dynamic features, robust admin panels, and powerful analytics panels to go with.
So, why wait? It is the right time to thrive with a tow truck booking app clone solution that is designed, developed, built, and tested by market experts. Provide an unforgettable experience to both service seekers and tow truck drivers with a single mobile app integrated with all the bells and whistles.
Demo
Pricing
Buy Now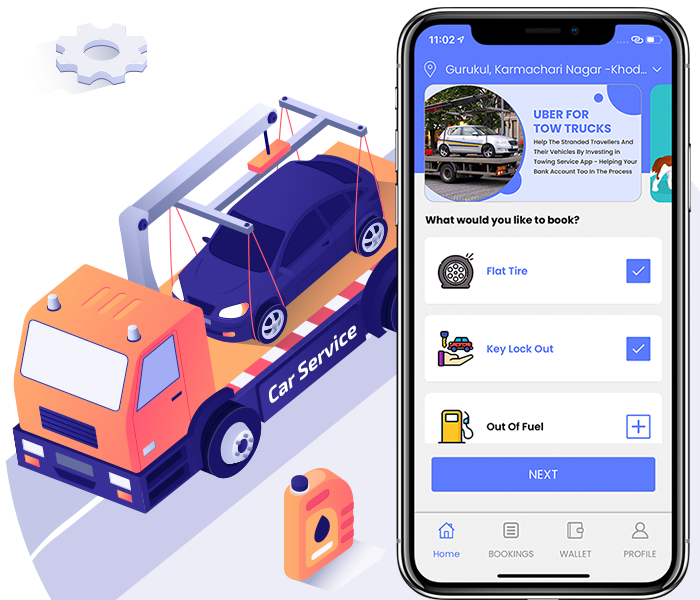 Don't Let Covid-19 CreateChaos In Your Business!!
Worldwide businesses are vastly affected due to COVID-19. Now that things are gradually returning to normal, now people getting back on the road will need your tow trucking services. Be there for them, in the time of need with Tow Trucks app clone.
Integrated with rich features, an intuitive user interface, and user-friendly navigation you can do more and better with your tow trucking business. Tow truck clone app ensures the faster tow truck service delivery to meet your user's demands. Users can place a request for tow trucks when their vehicle suddenly stops in the middle of the road with few taps on the app. The app lets them find quick towing service support from expert mechanics nearby.
The app built for stranded travelers ensures an interactive user-interface and super-fast connection to the nearest tow-truck service provider. Powered with stellar features, the dedicated app performs beyond the call of duty.
Who Can Benefit FromTow Truck App Clone
For Independent entrepreneurs, and startups who are looking to venture in an ondemand industry, or already have established business this readymade clone app makes a perfect choice to launch the tow trucking business in a week. Additionally, app development firms too can expand their clientele by connecting with us to pitch this intuitive, innovative featured rich tow truck clone app to their clients.
v3cube Loves Being Appreciated
Our developers leave no stone unturned, we deliver our clients the best. It makes us feel highly proud and encouraged when our clients appreciate our work.
The video testimony from the clients share their past bitter experiences with other app development companies who happen to charged expensive, with zero work satisfaction that was expected from them.
Our clients share our work relationship with them through this video testimony, listen to them as they share amazing app development experience, appreciating the whole team worked enthusiastically and addressed all the requirements efficiently to provide a fantastic platform. They further adds on how, amazingly the team crafted their ondemand app solution ensuring business growth and success even during the challenging period of COVID 19 spread.
Tow Trucking App Clone Superior Features Of Your Uber Like Roadside Assistance App
The Tow Trucking App Is For Who Can Use Our App
Individuals

The tow trucking app clone script is built for stranded individuals seeking roadside assistance. The app has an interactive user-interface that offers a quick connection to the nearest tow truck service providers. It provides:

In-app chat facility
Advanced search filter
Notifications
Real-time driver tracking
Estimated cost
In-app payment
Rate / Feedback

Independent owners (who owns tow trucking business)

Because we understood the woes of the people dealing with problematic vehicles; this readymade tow trucking app clone script aims to offer reliable ondemand assistance to your users quickly ultimately growing and expanding your business. The roadside app lets you:

Automate your bookings to generate better revenue
Customize services and let your users hire roadside assistance service anytime, anywhere
Fleet management
Real-time tracking
Referrals and their management

Marketplace

Don't run a towing truck service but still want a Tow trucking clone app script to run a similar business? The sky's the limit when it comes to leveraging our tow truck app script. You can charge:

By taking a percentage or a commission
Charging for cancellation
Wait time fee
Membership options
Ad banners
Minimum booking amount
Referrals
THE KEY TAKEAWAYSHere's what you get
When you purchase this powerful roadside assistance app we make sure you have revolutionary experiences. So, to help you in the same we provide some takeaways. Here's the same mentioned below.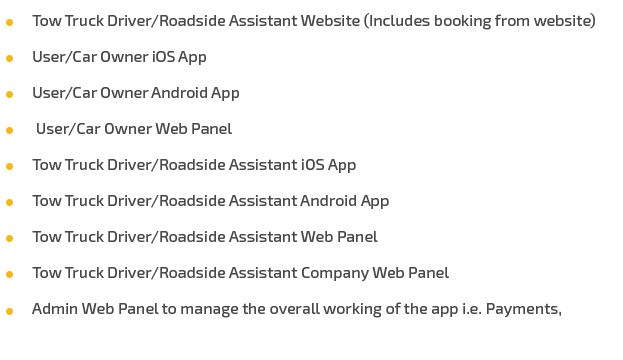 Buy Now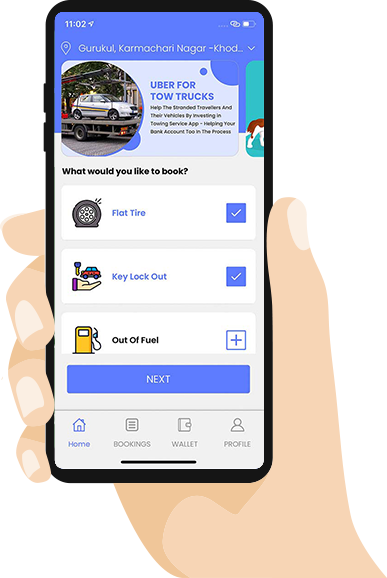 Detailed understanding of each app sections screens Explore The Functioning Of The Tow Trucking Clone App
User App
Tow Truck Driver
Add-on Features That Enhance The Capabilities Of Your Tow Trucking Clone App
A quick glimpse of our advance features available in the customer/user panel, tow truck driver app panel, website, and admin panel
Car Owner
Tow Truck Driver App
Website
Admin Panel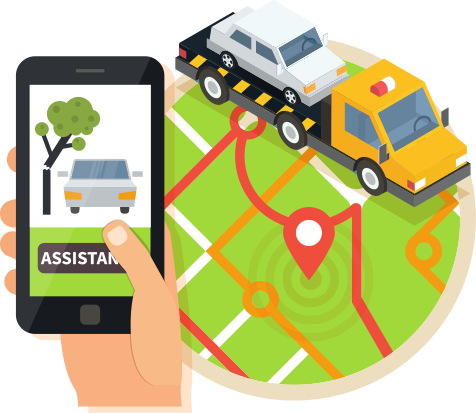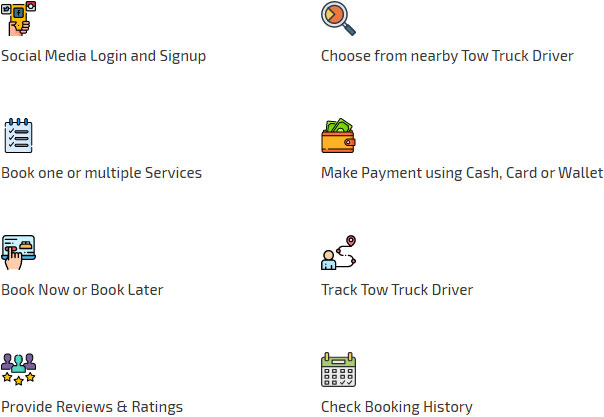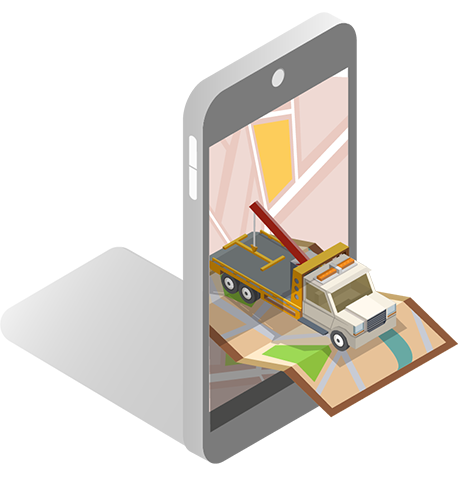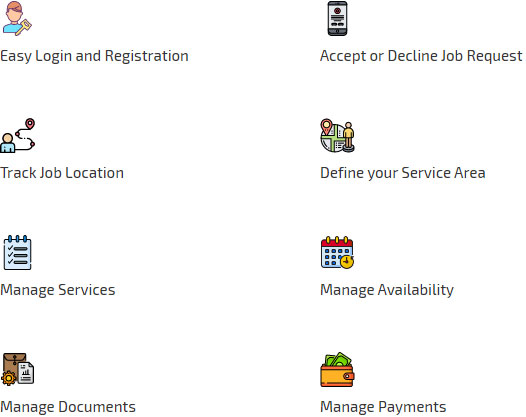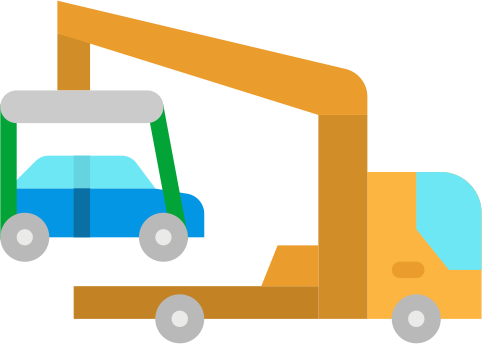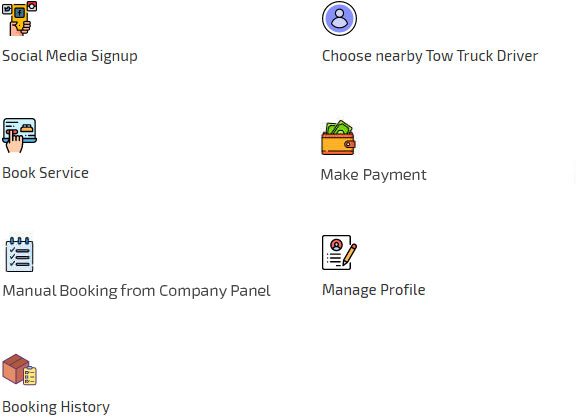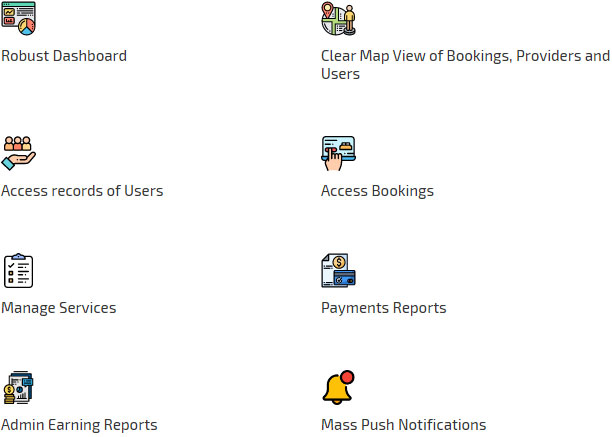 A Screen By Screen Tour Of Our Web & Admin Panel
Towing Roadside Assistance App Some people aren't tech-savvy and don't own a smartphone. If you don't have a plan in place, you'll be losing potential customers. The Towing Roadside Assistance App comes with a Responsive Website that allows your users to get roadside assistance by going filling out the essential information to book "Towing Requests." The Admin Panel, on the other hand, allows the Admin to maintain revenue records, manage profits and expenses, and get a bird' eye perspective of the full business operations. Thus offering total control over your business dealings. In any case, you'll never miss out on your target audience.
Explore Our Other OnDemand Service Delivery App Solution To Generate Multiple Revenue Income Different Types Of OnDemand Service Deliveries