Flowchart of the food delivery app clone's operation
Take an in depth look at how the app works in a detailed fashion. This flowchart will help you to understand the app in an intuitive way.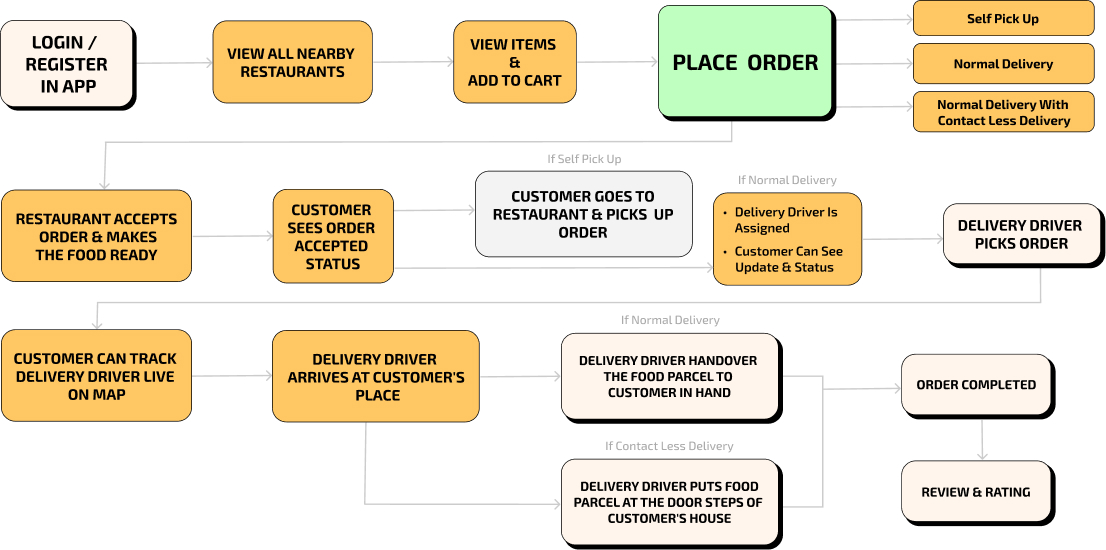 Latest advanced features in the food delivery app
Who Can Benefit With Our Food Delivery App Clone
This app will enable your customers to place orders with the restaurants closest to their area. Any restaurant can register in your app, but when a user searches, he or she will be able to see and place orders only with the restaurants nearby.

You can also use the app as a personal app in case you are a single restaurant. Simply register your restaurant on it and whenever a customer places an order, you can directly allot the order to a delivery driver.

If you are a chain of restaurants, this app could be used exclusively for your restaurants. Whenever your customer logs in, they will see the branch closest to their location. Once the order is confirmed, the order can be allotted to the nearest driver.

This App will save you from Leasing Expensive Kitchen Spaces in the area and hiring In-house Delivery Partners. From a Single Dashboard, you can seamlessly manage everything from Orders to Home Deliveries and Takeaways!
The Whole Package
of the Food Delivery Clone App Solution
When you become the owner of our Food Delivery App, it is not just a single application that you receive. This is a whole package that is loaded with multiple components to make sure that the process of ordering food through your brand's app is absolutely delightful. Take a look at everything that you will receive along with the app.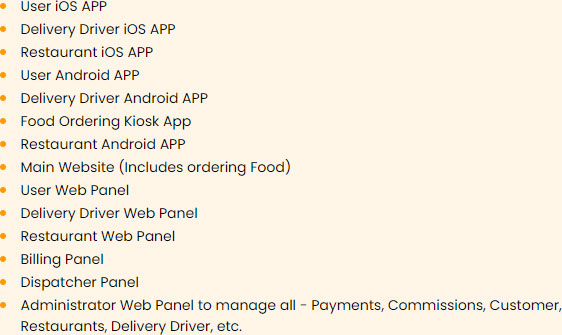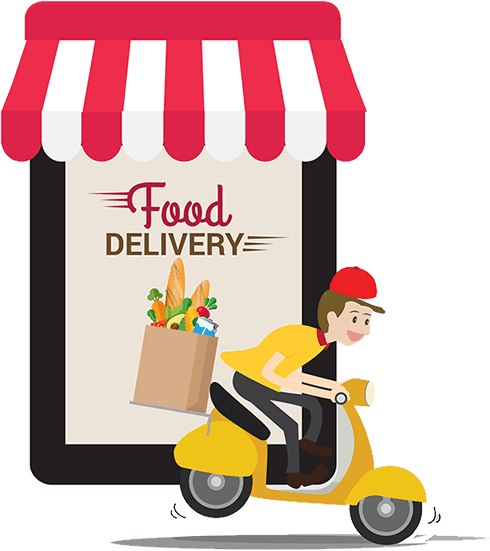 Top Features of the Zomato Clone App Latest Version
We understand that change is a part of evolution and every new year brings with itself a set of opportunities to enhance what we already have. In order to make sure that the app you purchase from us is absolutely the best in class, we have added some exciting new features. Take a look at some of our top noted features in the Zomato clone Latest version.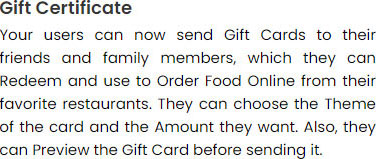 Leverage all platforms for more profitable orders!
This app will help you accept orders via the website, the phone, through the app and even by placing a call to the restaurant.
Let's Begin Your Online
Food Delivery Journey to Get A Feel Of Our On-Demand Food Delivery App
The Most Advanced Food Delivery App in the Market
Avant-garde Food Delivery experience always
Customer App
Delivery Driver Apps
Restaurant App
Food Kiosk Application
Enhance takeout and delivery revenue while preserving profits
Want to increase sales, have more restaurants to onboard with your app? drive repeat business? Is saving time and money your priority? Then our restaurant operations products are for you. Newly launched, our add-on product Android-based Food Kiosks Application is designed specifically for growing your business. And serves as an opportunity to present a wider variety of promotions to the customers.
Our industry-leading Android Food KIOSK application is designed to help entrepreneurs and startups streamline and enhance their food delivery operations.
Add new functionality to your food ordering app. 100% owing to your business brand, with a scalable technology stack, you won't have to worry about not fitting tomorrow's business needs. Increases the restaurant's capacity to receive orders, the admin panel to manages Food Menu, Orders, Customer data, etc. seamlessly. What's more, it has the option to print receipts in Kiosk, Cash Counter, etc.
Our highly user-friendly self-ordering food kiosk solution is to optimize your ordering process & customer experience.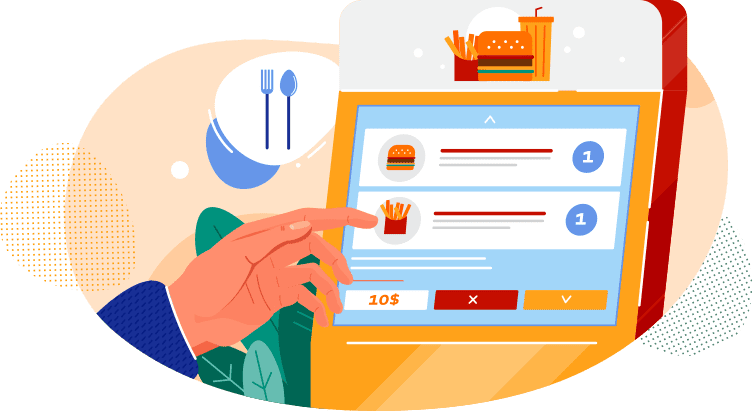 Who Should Invest in Our Latest Food Delivery App Clone?
If you are a smart entrepreneur looking to find the best solution to make money in the present market, then this is the right app for you. With the help of our think tank, our team of experts has developed a unique and highly advanced app like the Zomato Clone. It has been specifically engineered to make sure that it requires little or no effort from your end.
The app automatically manages the entire functioning of the business. It calculates, generates reports and handles transactions seamlessly without any intervention to be made by you. Our experts have made the best designed, most user friendly and seamless Zomato Clone app for you!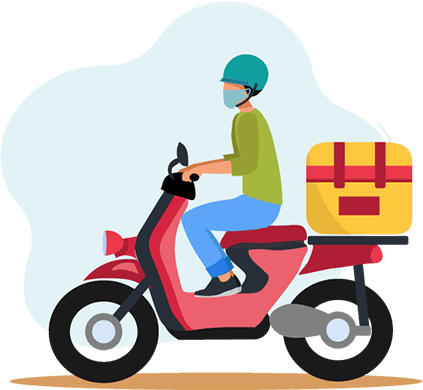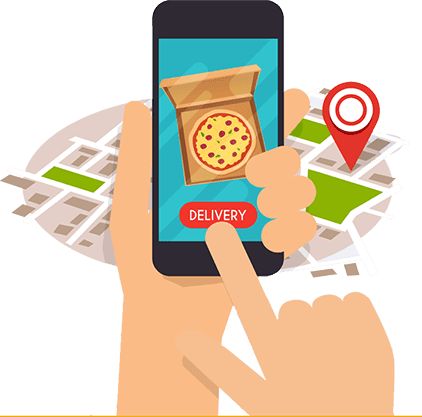 White Label Food Delivery App
If you truly want to succeed with your business, you have to be sure that the app you receive is white labeled. Without that it is completely useless. You want to establish your brand in the food delivery business. This is why it is imperative that the application is branded with your logo rather than anyone else's.
We have created a fully functional readymade app for your business. Within just 4 to 5 days, we can make your app ready to launch with your logo and brand name all over it. The entire app is white labelled as your own. It doesn't bear the mark of our company anywhere.
Disruptive Food Delivery App like Zomato
Loaded With Features
Our app is built using state of the art technology to ensure that it is power packed with the top features of the industry. Here's everything that you need to make your app an absolute success. Take a look to understand each aspect of that app better.
Customer App
Delivery Driver App
Restaurant App
Website
Admin Panel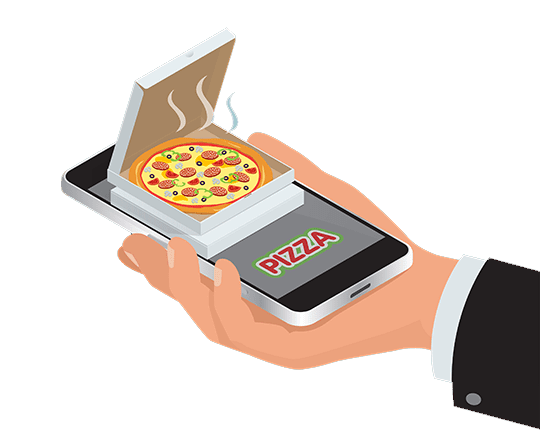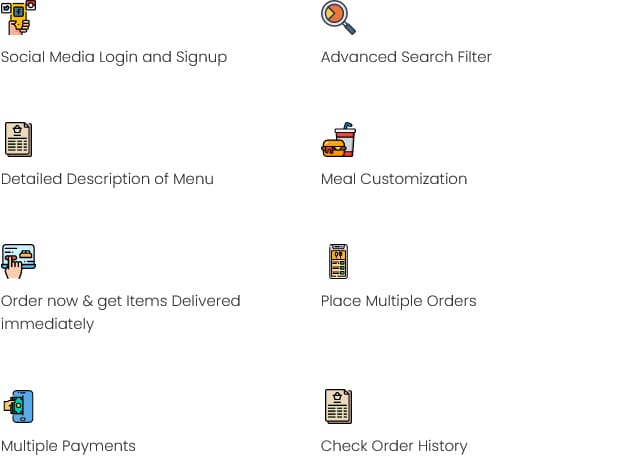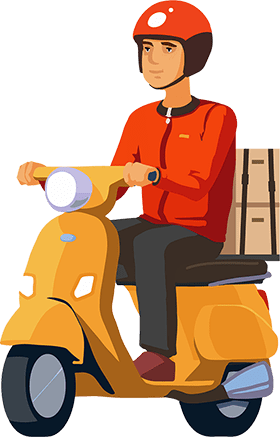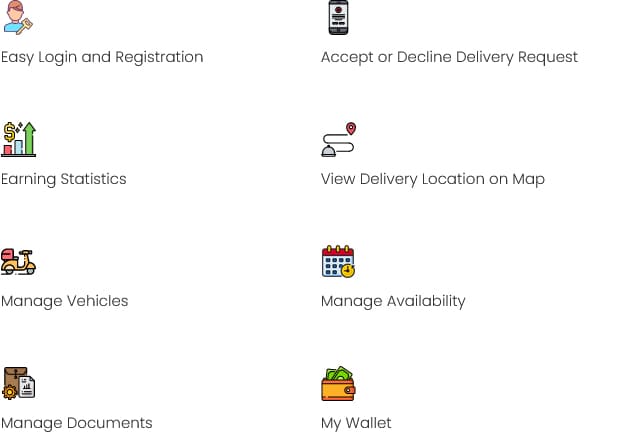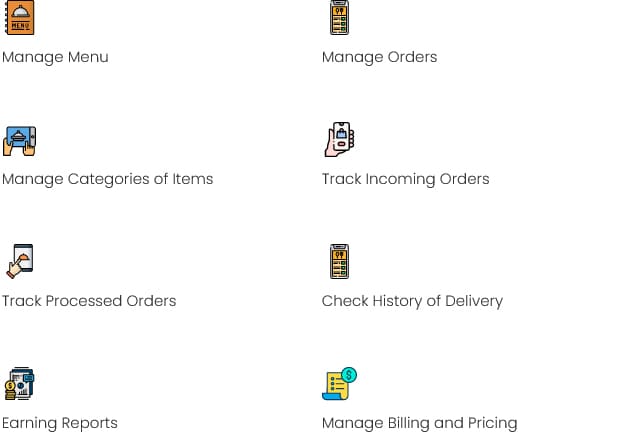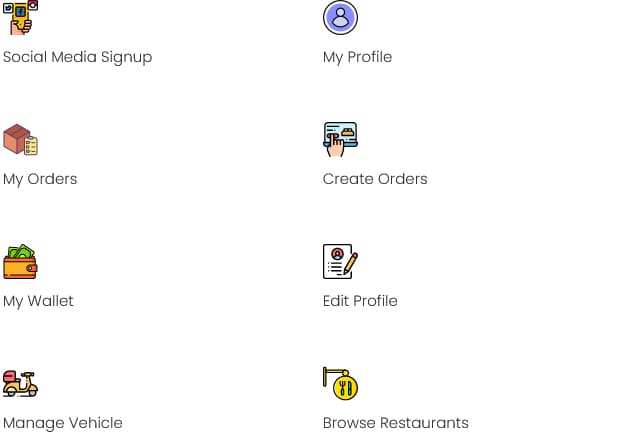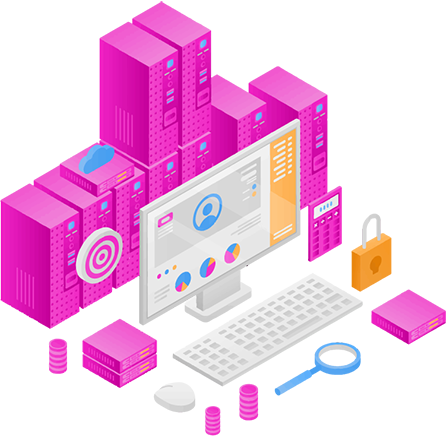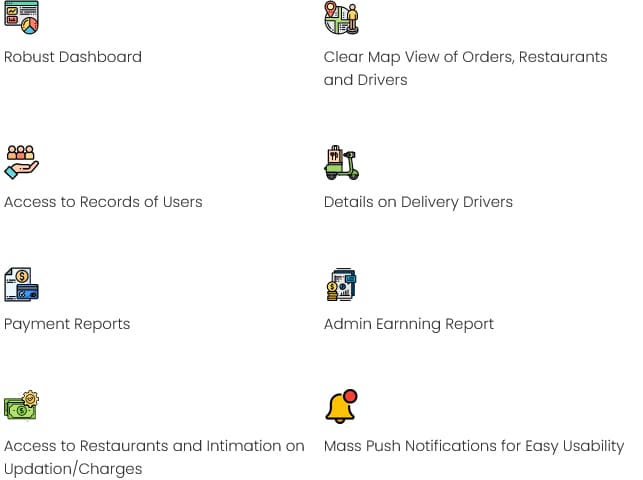 Food Delivery Website and Admin Panel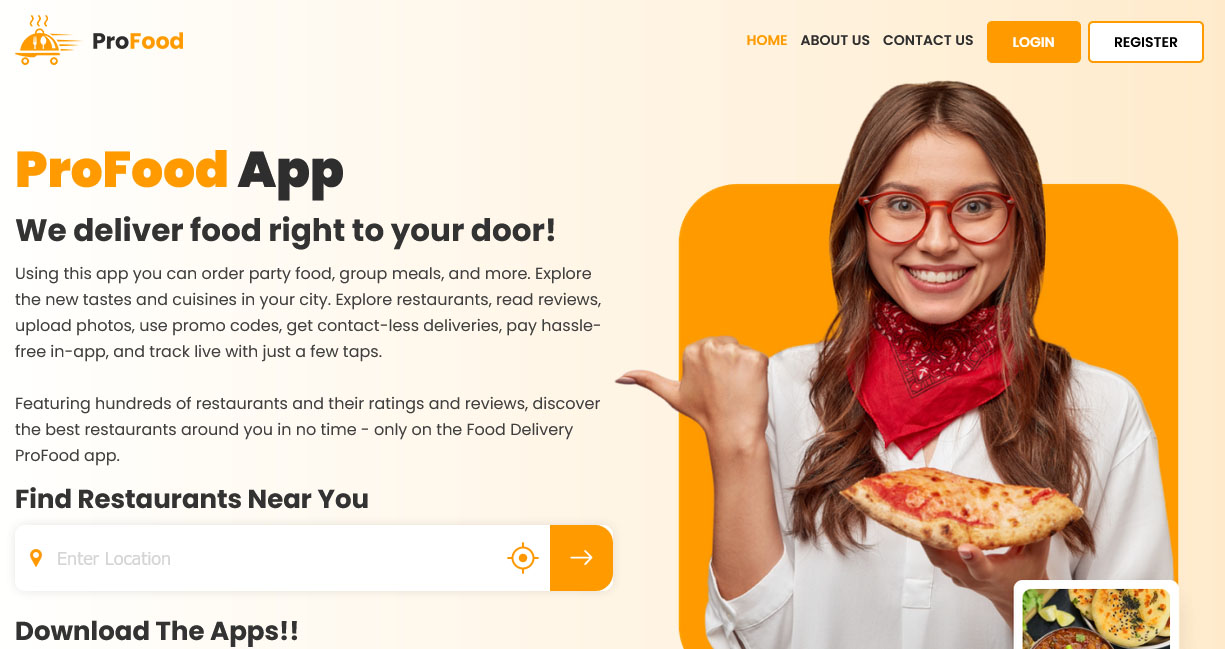 Responsive Website
A responsive front-end website for your customers and drivers who can simply log in and access it instantly.
Using this user-friendly website that has seamless navigation, your user whether tech-savvy or not can easily book their food orders easily.
Take the feel of the following illustration of the website and the flow of how your customers can order from the list of restaurants. The website will be the mirror image of the app. It makes you understand the functioning of the app and then take a live demo of the same by yourself by downloading it on your own handsets.
The demo makes you understand how our responsive website features work flawlessly so that you do not miss out on any order bookings.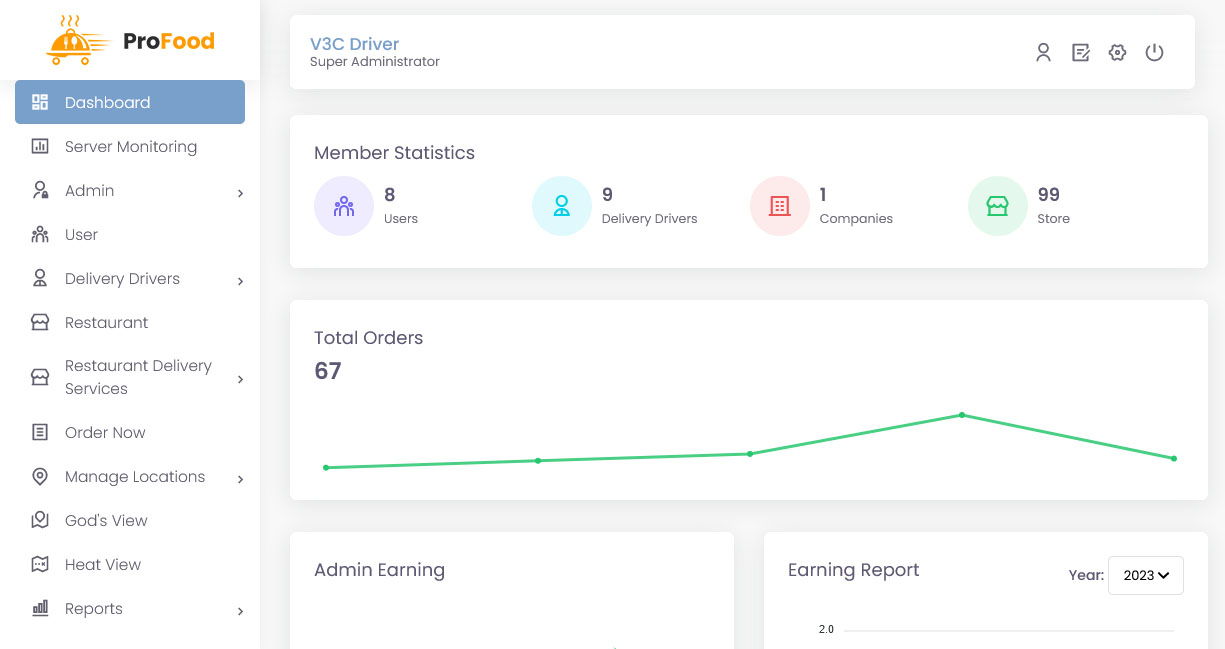 Admin Panel
An advanced Admin Dashboard Panel gives complete control over your food delivery activities.
A dashboard for admin is to view total orders, commission, turnover and sales details. Administrator panel gives you the general outline of how well your app is performing. It allows the Admin to modify site pages, add events, and customize the contact database. The powerful dashboard provides the payment management to know the earnings and spendings, etc.
Gather insights, make improvements and offer improved delivery services. The workflow gives you a glimpse of our app functioning.
Mr. Lavigne, our happy Parisian client
Praises Our Professionalism!
Meet Mr. Lavigne, our Prestigious client from Paris, France. Hear him Testify to Our Professionalism and how our Team helped him turn his Dreams into Reality. With a smile on his face, he shares his Joy and Praises our Dedicated Team for their Around-the-Clock, Top-notch Services.
But that's not all! He sends a Heartfelt Thank-you to our Support Team for their Unceasing help during the entire Journey—from creating the App to getting it approved on the App Stores.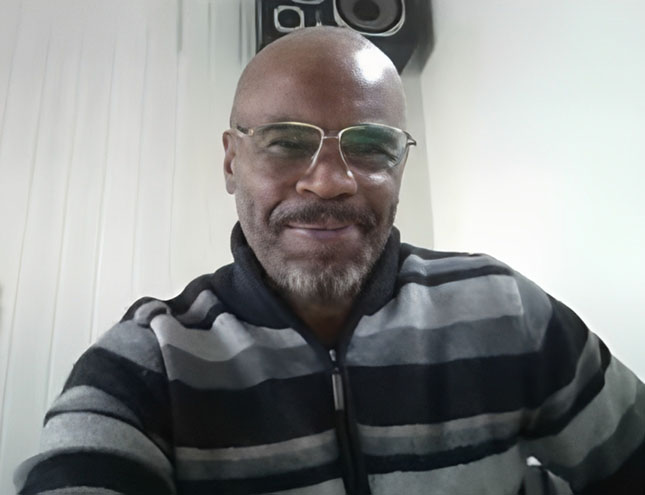 What Would an App Like This Cost?
The Food Delivery App
Building an app as complicated as the food delivery application is a very complex affair. There are too many components involved that make sure that everything works smoothly. By this time, you already know that there are many parts within the app, such as the delivery driver app (android and iOS), the restaurant app and web panel, the admin panel and the user app (android & iOS).
In order to build an app so big, it takes years to make it smooth. With the long duration that is involved, there is also a big price tag attached. The longer it takes to build the app, the higher is the price. However, we have already built the app for you!
In order to ensure that we can facilitate you in every way to make the least amount of expenditure, we have built the app and created packages with feature bundles. Whichever package seems most suitable to you, just pick that one! You'll never have to worry about paying for features that you don't want!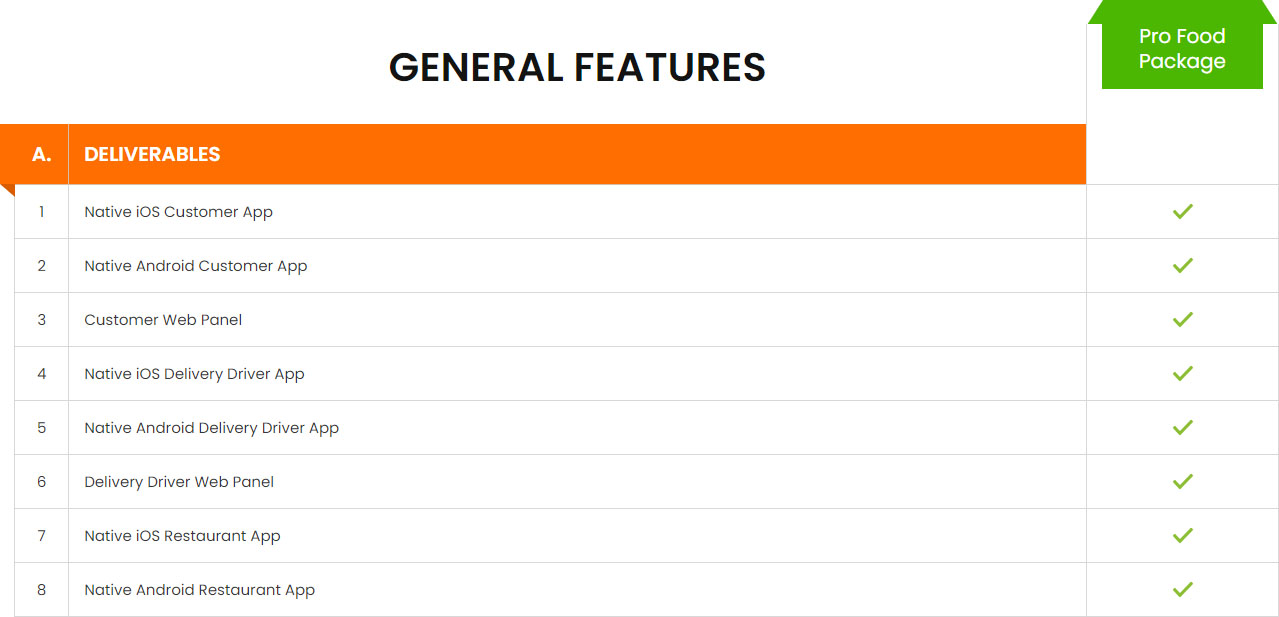 View Features & Pricing
Buy Now
Testimonials
Sometimes, instead of simply going through the product too many times, it is better to probably check out what other clients have to say about us. Here's a gallery of video testimonials offered gracefully by our clients. They talk about their experience in working with us, the quality of our apps and much more. Take a look.
Other Products
We developed a comprehensive Clone App that fits your business needs. Our Apps are 100% customizable white-label solutions that enable you to skyrocket success instantly. Cut the competition with the following assortments of the apps that we have to offer.
Get Your Own Currency and Language in the APP
To ensure that your food delivery app is successful locally, it is important to have the app in your own language and be integrated with your currency. Our app is designed in a way that we can offer any language integrated within the app along with the currency of your choice.
All you need to do is let us know about your language preferences. Wait! There's more. The best part about our app is that we can offer you multiple languages and multiple currency options as well in case you plan on launching your app in more than one location.
| Country | Currency | Language |
| --- | --- | --- |
| US | Dollar | Spanish, French, Hawaiian |
| Brazil | Brazilian real | Portuguese |
| Saudi Arabia | Riyal | Arabic |
| Malaysia | Ringgit | Malay |
| Indonesia | Indonesian rupiah | Indonesian |
| Nigeria | Nigerian naira | Hausa, Yoruba, Igbo |
| Mexico | Mexican peso | Spanish |
| UK | Pound sterling | English |
| Vietnam | Vietnamese dong | Vietnamese |
| France | Euro, CFP franc | French |
| South Africa | Rand | Afrikaans, Sotho, English, Xhosa, Zulu |
| Germany | Euro | German |
| UAE | United Arab Emirates dirham | Arabic |
| Canada | Canadian dollar | French, English |
| Australia | Australian dollar | English |
Technology Stack
We believe in finding success through the success of our clients. If you do well, so do we. This is why we only rely on the best of the technology stack. We have a state of the art development center managed with an expert team of analysts, developers and more. Take a look at the technologies involved in making your application.