What Makes Grab Clone a Wise Investment?
With the enormous success of Grab, budding entrepreneurs have started adopting similar solutions for their new on-demand taxi & delivery business and we being the pioneers in the field of Clone App Development understand well the sentiments that are attached with your new market courtesy which we bring App lie Grab.
The advanced white-labelled Grab clone promises great profits for your new business. With a wide variety of services like rides, deliveries etc. you are promised great profits right from Day 1! This in fact goes into making grab clone a wise investment for you.

Major Services Offered through
Grab Clone App
Service Included
With Grab Clone App you can cater a wide variety of services to your customers that include delivery which includes food and parcel, ride service that can be done using Moto and earn a handsome commission along the way.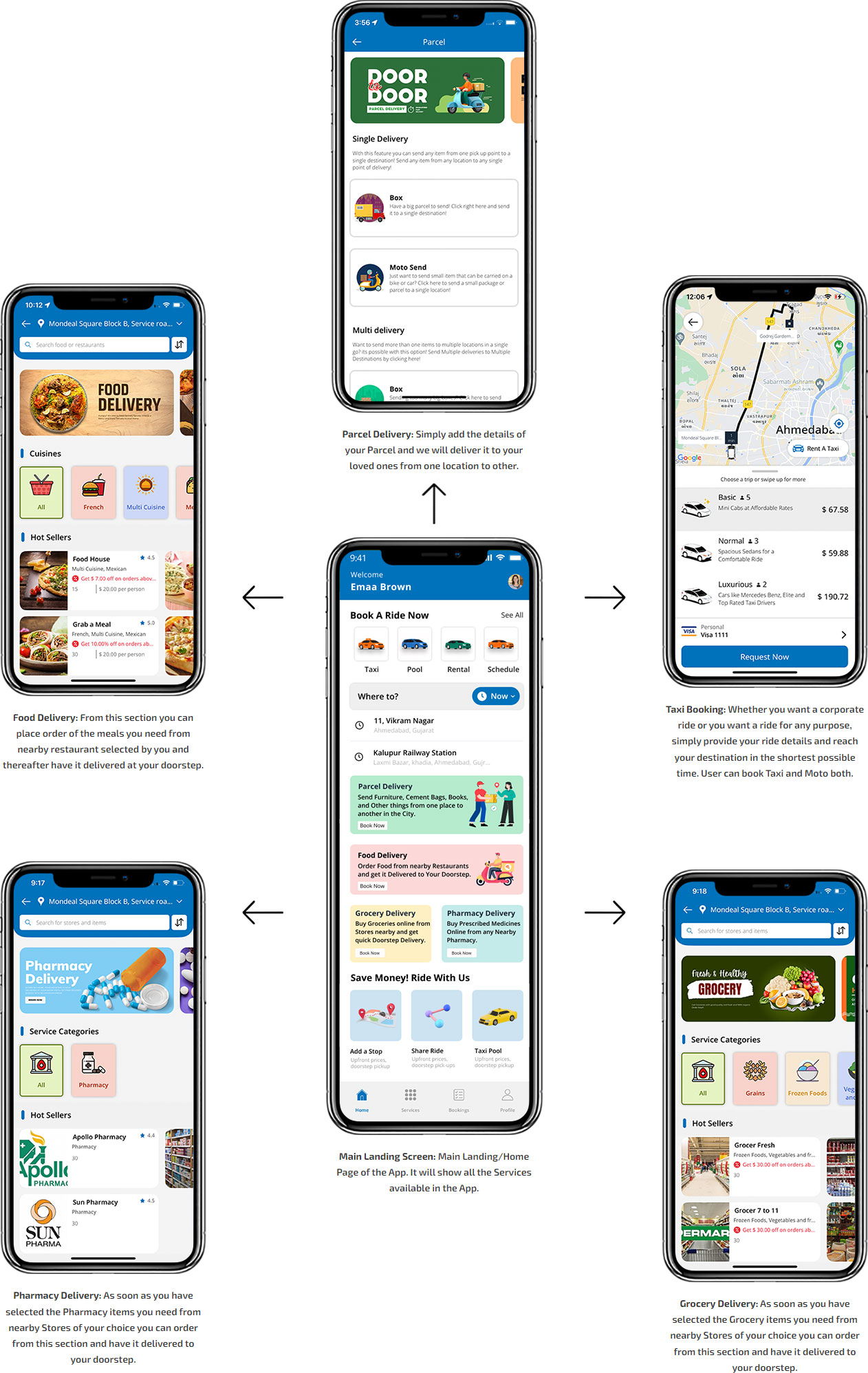 View Complete Workflow
Here's What You Get in Grab Clone
When you purchase the white-labelled Grab Clone you are promised a money-bearing business that will cater a wide variety of services to customers and promise enormous job opportunities to service providers. Here's a list of what you get in the Grab Clone package.
Grab Clone Advanced Features
Interactive Video to Explain Operation of Grab Clone
Watch this video to take a peek into how the app like Grab clone works and get a glimpse into how the solution promises huge profits for your new taxi and delivery business right from Day 1!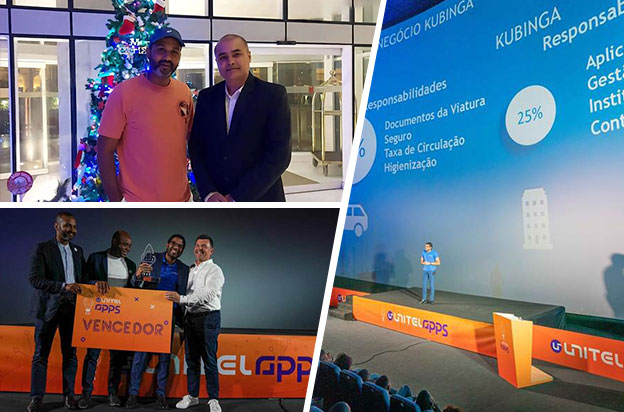 Estimated Cost To Develop A Taxi And Delivery App
Building a taxi app from scratch is nothing short of a time-consuming yet costly affair. Thus to make it less of a worry for you, we spent close to a year developing, polishing and enhancing the Grab Clone.
With over a hundred optimizations, iterations, normalisations on DB, etc. to name a few, we have made sure that the solution is optimized, matured and fast. However you may be wondering, what makes us stand out? So, we repeat again, our Grab Clone is polished, user-friendly as well as thoroughly tested and most importantly is built using the latest state-of-the-art technology. Most importantly, it comes with free upgrades and a friendly sales support that is always there when you need them.
User App
The screenshot of the user app presents you with a wide range of services that your customers can choose from and enjoy including rides, deliveries, etc. Also, it presents some unique features that are present in the app of the user that makes it a cakewalk for them to avail of different services at the tip of their fingers.
Driver App
The screenshots below present you with the different sections that are present in the app of your driver making it a cakewalk for them to offer rides and deliveries both.
Store / Restaurant App
The screenshots here present you with the different sections that are available in the app of the restaurant. Here you can get a glimpse of the different features present in the app of the restaurant making it a cakewalk for them to deliver food smoothly and earn a handsome commission along the way.
Kiosk App
Grab Clone comes with the interactive Kiosk App specially built for hotels that can be operated by them on platforms Android respectively. With the app, hotels can support the tourists getting a ride booked without the requirement of entering too many details for the same.
The solution is a gateway to the hospitality industry in terms of earning enormous profits through every ride that gets booked from it. What goes on to make the solution even more unique in nature is its multi-lingual form. This in turn goes into supporting the tourists seamlessly operating the app in their own language.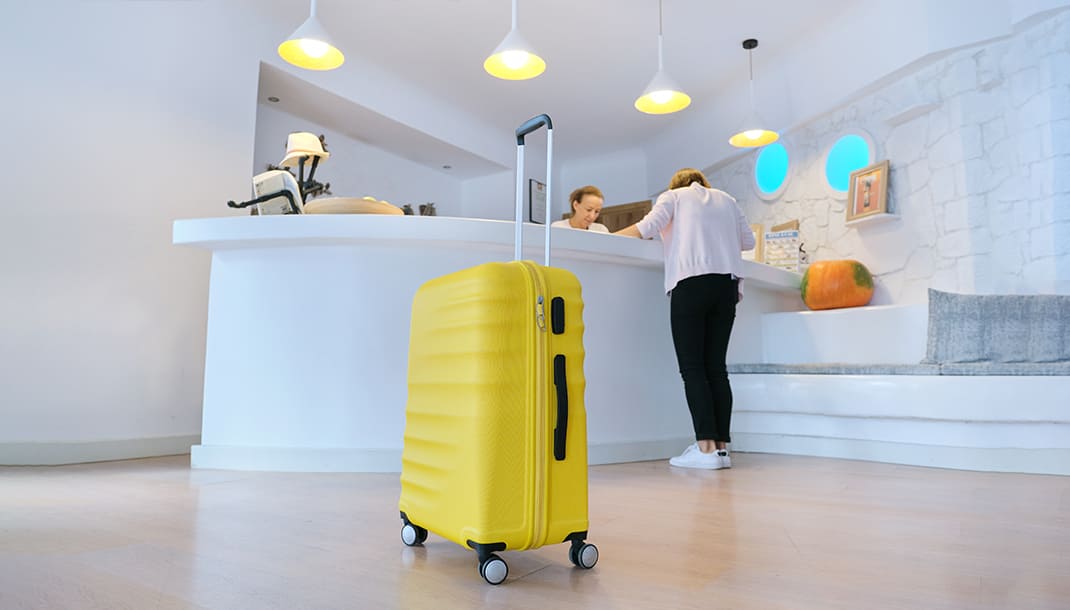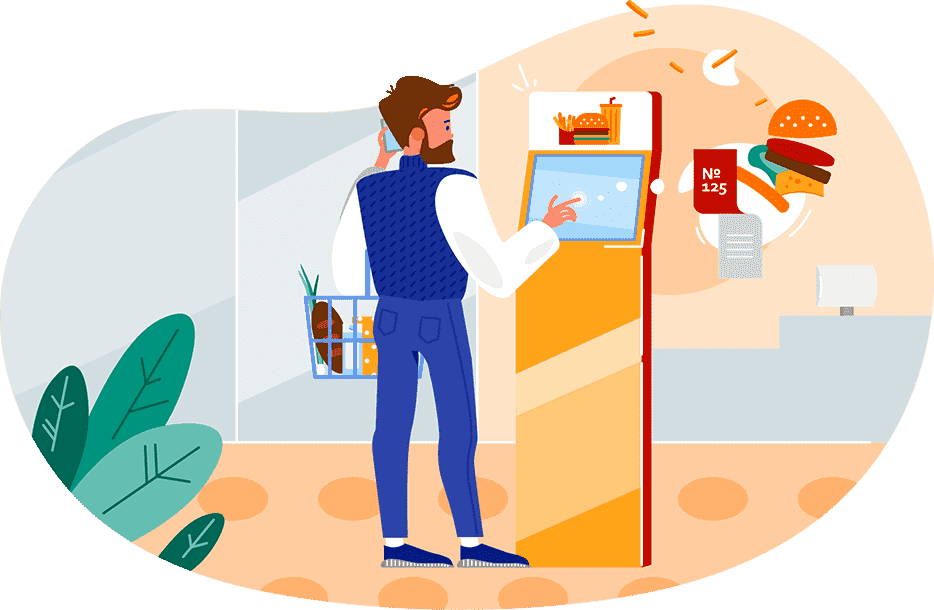 Food Ordering Kiosk App
Android-based Fully Featured Food Ordering KIOSK App comes inclusive when you purchase our On-Demand Food Delivery App. An Android-based Food Ordering KIOSK will be physically stationed in the restaurants enabling the "social distancing" and "Contact-less" dining experience. Our intuitive, fully-featured self-ordering Food KIOSK App can take more orders. The orders are automatically sent to the "Admin Dashboard" reducing communication errors and can be viewed on a real-time basis. Use this Food Kiosk as a marketing tool, allowing you to share promotions and display your restaurant's branding. Entrepreneurs looking for more opportunities to multiply the revenues Buy our On-demand Food Delivery App with FOOD KIOSK SOLUTION guarantees to grow your cash flow.
Front End of Website
The Grab Clone comes with an interactive website which can be used for marketing purposes. Being dynamic in nature, your users can book a taxi, order parcels / courier / food as well as moto rides. The website will also support them in managing their profiles more effectively as well as efficiently and take a glance through the reports, track the orders and also keep a record of all their past orders. Also worth mentioning is that despite acting as a support to your users this will also help you independently make personalization in your app. In other words, you can add new pages which may include Information Pages, Terms & Conditions, Privacy, and so on and so forth.
Book from Website
This new feature on app like Grab will support your users booking different services like taxi rides, moto rides, food delivery, parcel delivery all from the website.
Manage Account
This feature on grab clone will support the customers, service providers, different companies and organizations registered to seamlessly manage as well as edit the information they have provided.
Empowering Admin Panel

The gateway towards the management of your entire business, the admin panel will support you as the business manage and perform different activities like managing the profiles of the users, the drivers, keeping a record of the trip histories, the deliveries, the earnings, as well as settings, to name a few.

Distinctive Dispatcher Panel

This panel will support you manually have a taxi, moto or other services booked for your users on their behalf.

The Billing Panel

This panel will support you manage as well as keep a record of the different bills that were generated as a result of the different services availed of by your customers.

Algorithms We Utilize

We usually operate three different algorithms when we assign rides to respective drivers. From the three, you can select the one suiting you directly from the Admin Panel.

Assets

There are three unique methods by which ride requests may be sent to the drivers. As soon as a rider places a ride request with their ride details, the information of the same gets transferred to the driver.

Competitive Algorithm

All drivers within X km/mile range radius of the riders receives the ride requests and the one accepting it first gets the ride and is assigned to reach the pickup point.

Nearest First

Utilizing this, the driver who is nearest to the rider receives the ride request first and in case they decline the request, the request gets sent to the next and this cycle continues until one driver does not have the ride request accepted. It is important to bear in mind though, the ride request would get sent only to those that are within X km/mile range radius of the rider.

FIFO

With this algorithm, a driver who is idle for an exceptionally long duration of time goes on to receiving the ride request first from the rider and in case they decline the same, the request thereafter gets sent to the next one. FIFO in short means First In, First Out, that is to say, the one coming first receives first preference.

Facts You Should Know About Grab Clone

Here are some facts and figures you should have an idea about so as to get a better perspective on how we stand out in comparison to others in terms of delivering Advanced Features, Facilities as well as Support, to name a few.

Pricing

They say good things never come free and so true this is indeed. The Grab Clone, a white-labelled solution built for your new taxi business promises enormous revenue and customers from Day 1 itself. Here, you shall get a glimpse into the Standard Package of the Grab Clone and its constituents along with the price of the same. In case you want to ensure that nobody gets a hint of your new business sign a NDA (Non-Disclosure Agreement) with us. We will make sure thereafter that at all times your identity remains concealed as well as hidden and nobody gets a hint of your new business even.

Features and Pricing

Technology Used

The Grab Clone has been built utilizing the latest state-of-the-art technology to ensure that the solution runs smoothly without any hindrance whatsoever thereby ensuring fast operations always.

Payment Gateways We Have

Given below are the different payment gateways we have in store for you. However, in case you have one different from the ones listed below, do let us know.

Take a Peek into the Client Reviews

They say genuineness of services is proven only through an impromptu review an organization receives. Watch the client reviews below to get a first-hand view into our previous work and how we are different in comparison to other companies.

Genuine Services Proven Through Smiles of the Client

Take a sneak peek into these photographs that we captured with our clients on their consent. The smiles that they have on their face is testimony to the fact that we are genuine to the services that we commit.

Team Grab Clone

They say Rome was not built in a day and we can say the same about Grab Clone too. Our Grab Clone was built and developed by an army of 16 developers, designers, architects, DB Analyst, System Analyst, QA and 2 Project Managers in just a matter of 1 Year. Also, a fascinating point, the Design and Development took place under a single roof and was done by our full-time dedicated team. Want to know more about them? Visit our About Us Page to meet our Team Grab Clone to make this dream a reality!