June 18, 2021
Proven Tactics To Practice Using Your Instacart Clone App For 100% Success
The "New Normal" scenario has changed the way businesses used to operate. People are comfortable buying things online from the comforts of their homes. By downloading the instacart grocery delivery clone app, they can purchase from the online stores easily at getting them delivered to the doorstep.
The on-demand delivery apps are assisting people to get their daily essentials, food, and groceries without leaving their homes. These convenient doorstep deliveries are providing a comfortable purchasing experience. The users can relax now that they can get things delivered amidst busy working hours.
Instacart Clone app when developed from an efficient app development company can bring in great monetary and brand awareness benefits to your business. Building an advanced grocery service app solution provides an ease to the buyers in buying groceries.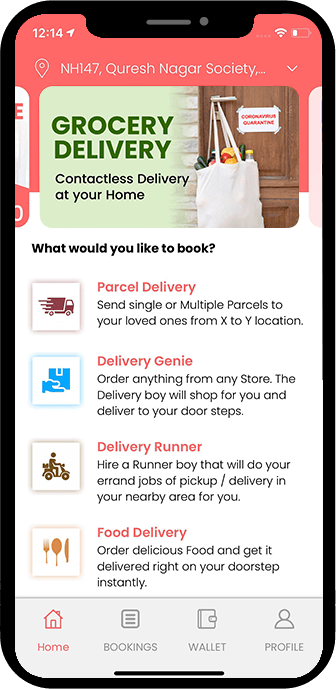 Following are the proven tactics to integrate into your Instacart Clone App
Proven Tactics of Instacart Clone To Boost Your App Visibility
Using the Instacart clone app integrated with these proven tactics enables you to grow and expand your grocery delivery services regardless of the pandemic.
The skilled app development team knows what it takes to make a successful app. Thus integrates the right elements so that your customers remain glued to your app.
Multiple time slots
Yes, the more the merrier it works here.
Offer multiple time slots to your customers. When you are giving broader delivery availability it naturally boosts the grocery orders. The customers have the convenience to choose their time-slots which they want. This shows that they can purchase and get delivery of their groceries as per their scheduled time.
Re-ordering the orders
Having this feature integrated within your app can allow your customers to reorder the items without browsing over again. The items can be quickly added to the cart and the customer can quickly checkout paying online. This way the customers do not have to remember their groceries or make a list. Just view their past orders can help them accomplish their grocery shopping.
User-friendly App Accessibilities
Complex navigation, trouble loading images, the checkout process is confusing will make your customers leave your app.
That is why app development companies always insist on developing a user-friendly Instacart Clone App. Give what makes your customers happy. Offer them a pleasing grocery shopping experience to increase your user count and productivity shortly.
Offer quick delivery services
Optimize your instacart clone app with efficient route planner features. This helps in offering more deliveries in the shortest time. Also, this shows the traffic jams, road closed as well as quick shortcuts so that your delivery drivers can accomplish quick and more orders in a short time.
Contactless Payment
Encourage digital payments. Integrate various online payment gateways so that your customers can make the payment with ease. Furthermore, your customers won't have to worry about adding more items to their cart. They can pay using their Credit/Debit cards, Net Banking, E-Wallets, or PayPal, etc.
Social Engagement
It makes your customers super happy when your signup process is quick and easy. Allowing your customers to register and signup using their social media credentials can boost your app downloads. Customers love uncomplicated things, and filling the lengthy forms for grocery shopping is seriously a downer.
Furthermore, leveraging social media platforms to promote your app can be the best way. Sharing success stories, customer stories, reviews, offering discounts can take your app a long way. Social media engagement helps build a loyal growing customer base.
In Conclusion
The arrival of the post-pandemic situation in the grocery store marketplace turns utmost grocers to serve their customers through an on-demand delivery service platform. The help of the above-mentioned proven tactics of the Instacart clone app can help you run your grocery delivery business successfully and efficiently.
Seamless mobile apps are an important aspect of starting a grocery business. Buy a ready-made instacart grocery delivery clone that you can customize the way your business demands. Connect with an app development company offering you a white-label Instacart Clone App solution. Thus, in the future, you can make changes to the features, themes, logo, etc. without any technical assistance.