October 7, 2019
Taxi apps: What's going on in Nigeria?
Let's face it, user experience in a yellow taxi anywhere in the world was a punishment. You had to rely on the taxi driver's mood completely to be picked. He doesn't like my face, maybe he'll not pick me up. She's had a fight with her husband, maybe she'll make a couple of men miserable by not giving a ride. I'm not kidding! Sometimes when I watch movies about cab drivers kidnapping or fighting with customers out of sheer malice, I believe it. This is because I feel in the heart of hearts, they knew how dependent we are. The introduction of taxi apps like Uber and OGA changed that in a big way for Nigeria.
Where people argued about fares and distances, these apps gave users transparency and clear across the board rate that left a very less room for cheating. 
Did the consumer welcome this change?
Well, not really. Nigeria has seen some terrible taxi issues and it took a lot of time for people to accept new systems for hailing a cab.
You know, I spent a good amount of time trying to identify and understand the kind of response this transition would breed and I sensed distrust amongst users.
I can say without any doubt that yellow cabs was pretty pathetic until a few years back. Now that there is so much competition in the same industry, suddenly yellow cab drivers have started caring and interested in enhancing overall customer experience. So, I say, all in all, it is quite a victory for the consumer.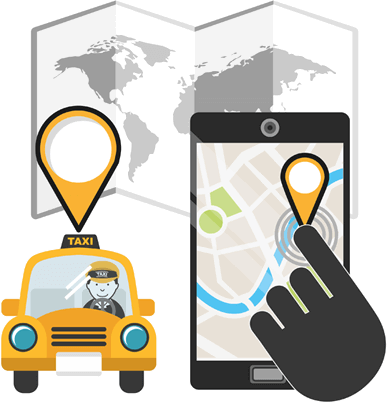 What are the taxi services currently present in Nigeria?
Uber
The taxi mammoth first set foot in Lagos in the year 2014. However, how could the big guy have a small story. In just about 2 years, Uber has managed to record 1 million rides in Abuja and Lagos. Big numbers always get my toes tingling. I totally believe I am going to invest in an Uber clone taxi apps to make some money as well.
MyCabMan
Although pretty much a standard taxi application, MyCabMan's user base is limited to students around Enugu and Calabar. The concept of MyCabMan is not to make taxis cheaper but on helping people easily gain access to the cabs.
Oga Taxi
Oga has been going around quite well in Nigeria, because it truly understands what users want. The interface is user-friendly with features such as booking when no internet available, emergency contacts, and schedule rides for later.
Red cab
What initially started in 2009 as a 'call to book' service, is now accessible through an app as well. The sweet deal about this is they provide FREE wifi in the cabs. Yay! I am such a sucker for freebies!
Afro
Afro was launched sometime in the year 2015 and seems to be going strong since then. I think Afro has been a really smart player because he helped people ease into the transition pretty seamlessly. So, instead of reinventing the whole wheel, Afro is now a platform for private cabs willing to give rides for existing yellow cab drivers. The sweetest thing about Afro is it allows a little bit of bargaining for the users! Also, who doesn't like a neat AFRO!
The more I think about it the more I fall in love with the On demand taxi (business). You think a commoner (yes, I am being humble) can run independent cab business just to buy Uber app clone? Although I have a fair bit of research to back me up, the mind still wonders. I think I'll give it a shot and try one of the platforms that seems promising and add a new twist to it with another form of an on demand service as an offering!